Chief of NZ Army says Fiji visit both long overdue and greatly welcomed
Reconnecting face to face as armies and renewing old friendships while on an official visit to the Republic of Fiji has been both long overdue and greatly welcomed, Chief of Army Major General John Boswell says.
29 July, 2022
Major General Boswell arrived in Fiji on an official visit on Monday and said he was grateful to be able to visit one of New Zealand's partner nations.
While in Fiji he visited Blackrock Peacekeeping and Humanitarian Assistance and Disaster Relief Camp in Nadi and spent time with the New Zealand Officer Cadet School, currently undertaking Exercise Veiliutaki alongside the Republic of Fiji Military Forces (RFMF), working together in fully integrated multi-national platoons.
COVID-19 restrictions mean this is the first time the Office Cadet School has managed to get overseas since 2019.
Major General Boswell said the last two years had been incredibly tough, not only for both countries' armies, but their nations.
"Being able to reconnect as armies, renew old friendships and give life back to the great partnership that exists between the RFMF and the NZ Army is both long overdue, and greatly welcomed."
He said the two countries had a great partnership, serving alongside each other in the Pacific during World War II, Malaya, East Timor, and on numerous peacekeeping and peace support missions.
"It really is a great partnership and it continues today with the deployment of our Officer Cadets to Fiji another chapter in the fine history of our two militaries."
Alongside the Officer Cadet exercise, Major General Boswell also acknowledged other recent joint partnerships undertaken by New Zealand and Fiji.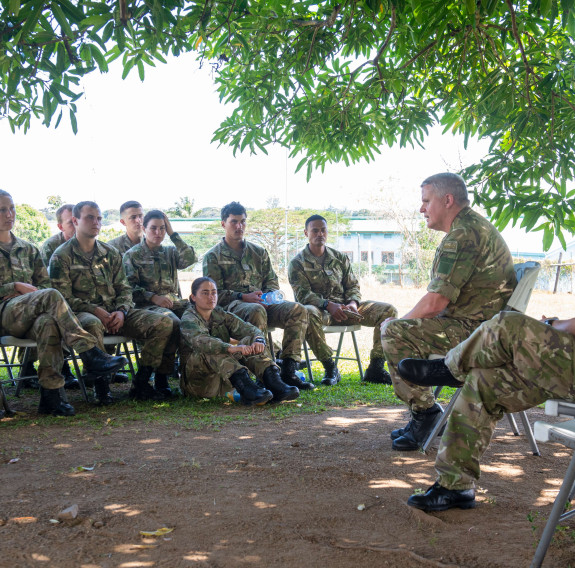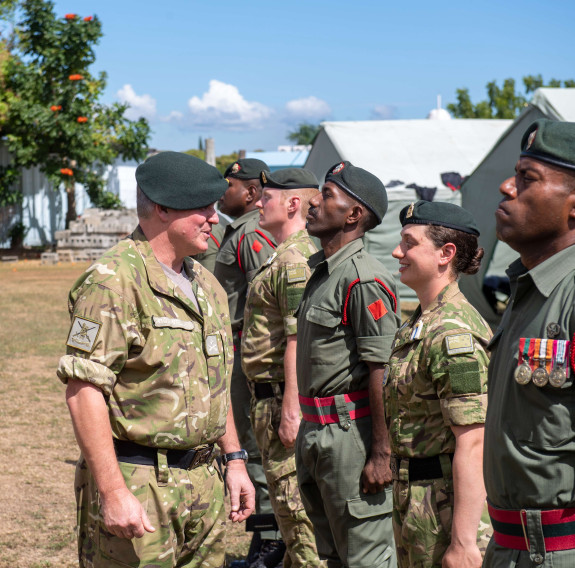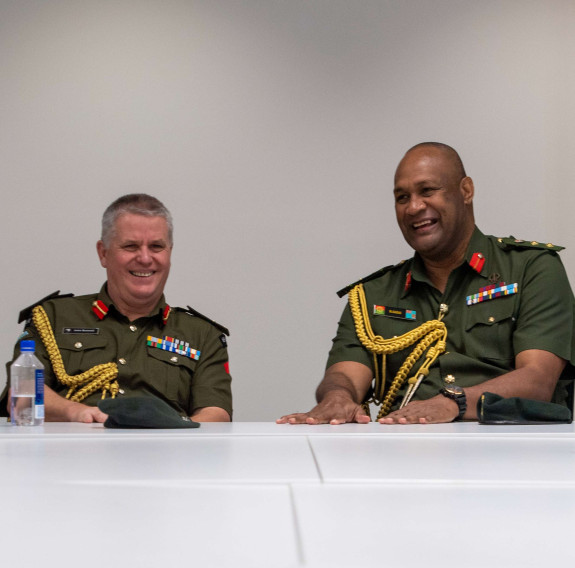 New Zealand Army engineers recently finished their work on the rebuild of Lekutu Secondary School in Fiji alongside their Australian, Fijian and French Armed Forces of New Caledonia counterparts, while another six New Zealand soldiers have been supporting Fiji's Basic Recruit and Senior Non Commissioned Officers courses in Fiji.
Three New Zealand personnel also recently took part in a multilateral Humanitarian Assistance and Disaster Relief activity held in Fiji, called Exercise Longreach, to help develop a more structured regional response capability that defines the way different militaries work together in times of crisis.
Major General Boswell also had the opportunity to tour Blackrock Camp in Nadi, where New Zealand currently has a strategic advisor based, and met with Commander Joint Task Force Command Colonel Manoa Gadai.
On his final day, he attended a sports day held between NZDF and RFMF, with the inaugural touch trophy won by RFMF.