Celebrating Cook Islands Language Week: Able Writer Dylan Edney-Pardoe
In celebration of Cook Islands Language Week, Able Writer Dylan Edney-Pardoe describes what is special about his culture and how he fits this into his career as a sailor.
05 August, 2022
Growing up in the Cook Islands is so different from New Zealand, the culture, the people and the way of life. I wanted to do something different and exciting from what my schoolmates wanted to pursue after we completed high school. Halfway through Year 13 in 2018, I applied and somehow a 17-year-old kid with no life experience was accepted into the Royal New Zealand Navy. I wanted to make my foster parents proud for all they had done for me and my siblings, so they are my drive and the reason I'm here.
One of the most memorable moments for me was Basic Common Training. It's the first step in military life and the hardest. The adjustment from being a civilian to being a member of the Navy was a bit more difficult for me as I was adjusting to the cold and had to move countries to enlist. But the people you meet in BCT become lifelong mates.
I'm an Operational Administrator or more commonly known as a Writer. An average day is doing the administration required for a lot of things. This can range from promotions, allowances, Daily Orders and so much more.
While I was serving on HMNZS Canterbury in 2020 we travelled to the Tokelau Islands to provide Humanitarian aid and supplies to assist the locals for the upcoming Cyclone Season. It was a month-long deployment with Army and Air Force personnel on board. That trip is the highlight of my career so far.
"It's when you're out there at sea that you really find out what the Navy is all about. Each day at sea was a different experience from the previous day, it really made my job interesting."
I was not born in the Cook Islands, but growing up with Kuki parents all my life made up for that, especially when I can fluently speak and understand the language. In early childhood, my siblings and I grew up in Tokoroa. When a Minister (Pastor) role become available at one of the Seventh Day Adventist Churches in the Cook Islands we made the move to Mauke for three years, then moved to Aitutaki.
The things I miss about my home island of Aitutaki are my family, the people and certainly the food.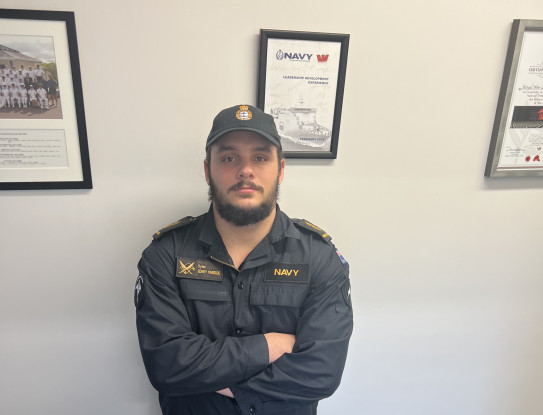 One of the things I love about our language is that each Island has some differences in some of the words and also the way it's spoken. It's still very similar and easy to understand though. It makes each island unique and interesting.
"The festive and loving culture of the Cook Islands can make anyone feel at home and not want to leave. It makes me proud that I am a part of this culture and that I grew up there."
A special proverb I'd like to share is, 'E u'u no te akau'roa ka oki rai aia kite ngai no reira mai aia'. In English, it says 'A parrot fish from the long reef will always go back to where it comes from'.