Attention to detail
Royal New Zealand Navy recruits undergoing the four-month-long BCT course will participate in four levels of kit musters, where they demonstrate their ability to fold, arrange and wear different kinds of uniform kit to a very high standard.
23 June, 2022
Basic Common Training (BCT) 22/01 Divisional Officer Lieutenant (LT) Sam Mayhew says once the recruits move from coveralls to wearing General Work Dress (GWDs) at about week 6, it's time to start testing their ability to present themselves in Navy uniforms and show pride in the variety of uniform kit issued.
The first is a Leading Hands' Kit Muster, involving all items of kit laid out, beautifully folded and spaced, on their beds. Later, there's a Senior Rates' Kit Muster; the same thing, but with a different set of eyes.
LT Mayhew gets involved in the Divisional Officers' (DO) Kit Muster, which is a 'Change Parade' for the recruits. They present wearing six different kinds of uniforms within a set time frame, each marked on presentation and attention to detail.
As each change takes place, the recruits help each other, checking uniforms for dirt and 'train track' creases – a crease that has been ironed with another crease alongside. Recruits with lint rollers take turns to go over hard-to-see places on their classmates.
Attention to detail is what trips a recruit up, says LT Mayhew. "They'll get told what uniforms we want them to show for us. They have to practise meeting fleet standard times. On a ship, for Damage Control, you have to present yourself in a certain time. So it's getting them to practise that urgency and speed – the right kit for the right event."
Recruits can have a maximum of five points deducted. "They tend to get all the right kit on, but it's the little things. Lint, dirt, lanyards showing when they shouldn't be, train track creases. There is some lenience. When you put a uniform on, there will be creases. But you don't want a crease that's been ironed in. The lesson is, you can rely on your oppos to help you, but if you don't do a final check, it's on you."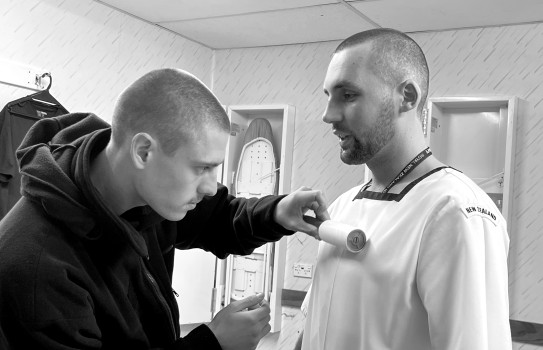 The first Leading Hands' Kit Muster is on a set date. But after that, the recruits are given time slots by Recruit Training Squadron staff, and it is up to the individual to request the Senior Rates' and Divisional Officers' kit musters – or request a time to re-sit a kit muster they previously failed.
"This gives them an opportunity to Lead Self and it teaches them that different levels of people are watching them, not just one instructor."
Not passing means losing privileges, particularly leave. "If they don't pass the Leading Hands' kit muster, they don't get leave. Once they pass that, they get the minimum amount of leave. Senior Rates' kit muster, more leave. If they pass the Divisional Officers' kit muster, that's the final amount of leave awarded."
There is one final phase, the Recruit Training Officer's (RTO) kit muster. The top two from the DOs' Kit Muster will undertake a kit muster on their beds, for the RTO's inspection. The top person wins an award.
You're not going to fail the course if you don't pass, says LT Mayhew. "It's not a control point. But it impacts their leave. It's their freedom."