Antarctic fuellies – first in, last out
A team of six Air Force senior aviation fuel specialists and a New Zealand Army petrol operator made their way to Antarctica for the 2021/22 summer season to offload a combined 8,324,000 US gallons (USG) of fuel to last the programme up to 24 months.
20 May, 2022
The team worked three days of 24-hour tank-to-tank transfers, creating four new six inch and eight inch hose lines to the pier, setting up four inline pump systems to create enough head pressure for the fuel to make the 2.5km journey. We then were ready to receive the first load of fuel.
In first was the Maersk Peary, the main tanker vessel that supplies three grades of fuel to the Antarctic programme totalling approximately 7.617 million USG. This was a three day operation running 24-hours a day involving 40 people and certainly one of the more dangerous operations on the ice.
Next in was the USCGC Polar Star Icebreaker. Thanks to her and her company, the ice was kept at bay for the duration of ship operations over the course of four weeks.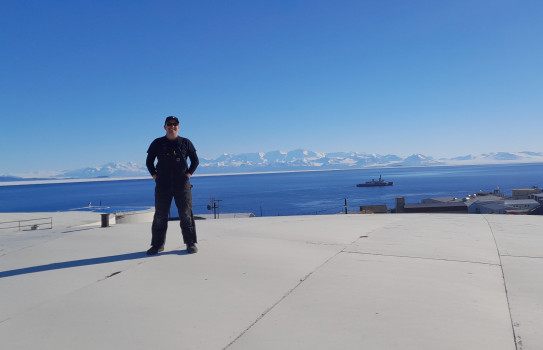 Polar Star was there to be refuelled with approximately 439,700 USG over the next two days prior to heading back into the Ross Sea to be on standby should any ships require her assistance in exiting through the ice.
A new and major event followed with the arrival of the Royal New Zealand Navy's HMNZS Aotearoa on her maiden voyage to Antarctica. The professionalism of her crew made it seem like they had been here just yesterday as she smoothly came alongside the pier.
A tribute to their training and hard work over the past 12 months getting her ready for operations. Aotearoa spent the next 48 hours achieving a range of proof of concept operations including offloading 271,000 USG of JP-5 fuel. This was all achieved directly after spending some time supporting our friends in the Pacific region of Tonga.


BY THE NUMBERS


MAERSK PEARY
28.4M
litres of AN8 (Diesel) dispensed
378,000
litres of MOGAS (85 Octane Petrol) dispensed
USCGC POLAR STAR
1,662M
litres of JP-5 (Jet fuel) loaded
HMNZS AOTEAROA
1,025M
litres of JP-5 loaded
TOTAL FUEL TRANSFERRED
31,465m litres
Once all fuel transfer operations had been completed, the gruelling task of packing up now had to take place including; pigging the lines*, packing up the pumps, under-running and rolling up 1.6km of lay flat hose and final calculations made.
Four Air Force senior aviation fuel specialists elected to stay on to assist the 53 newly arrived NZDF contingent with cargo vessel operations. Normally, cargo vessel operations are first however due to mechanical issues the ship (MV Ocean Giant) was forced to head back to her homeport of Port Hueneme to carry out repairs meaning that all fuel operations were hastily brought forward to ensure the window of overall ship operations, was met.
*A phrase used when a rubber bullet- shaped object is blasted through the hose via compressed air.
By Corporal Mitchell Taylor.